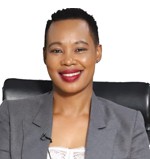 11 February 2022
Department of Small Business Development Minister Stella-Ndabeni-Abrahams applauds and welcomes initiatives announced by the Honourable President Cyril Ramaphosa during the State of The Nation Address on Thursday night. 
During his speech, President Ramaphosa announced that the government is taking far-reaching measures to unleash the potential of small, micro and informal businesses. The President told the nation that discussions have already commenced to review labour market regulations for smaller businesses to enable them to hire more people.
 
Minister Ndabeni-Abrahams is also pleased with the announcement of a new, redesigned loan guarantee scheme, which is being introduced to enable small businesses to bounce back from the devastating effects of the COVID-19 pandemic, as well as the civil unrest that engulfed KwaZulu-Natal and parts of Gauteng in July 2021. The civil unrest resulted in significant damages to businesses, and the loss of tens of thousands of jobs, particularly in KZN. According to the President, the bounce-back scheme, "will involve development finance institutions and non-bank SME providers in offering finance, expand the types of financing available and adjust eligibility criteria to encourage greater uptake."
 
Of particular importance to Minister Ndabeni Abrahams is the review of the Business Act – alongside a broader review of legislation that affects SMMEs, to reduce the regulatory burden on informal businesses. This, along with increasing access to funding for more SMMES across sectors, will allow small businesses to grow and create much-needed jobs. The department is also in the process of concluding the National Integrated Small Enterprise Development master plan, which seeks to enhance efforts towards practical interventions towards the promotion of SMMES to create jobs and contribute towards the GDP.
 
Minister Ndabeni-Abrahams said, "small businesses are the lifeblood of the economy of this country. Dealing with the red tape and allowing SMMEs and informal businesses to thrive will go a long way in reducing the unacceptably high levels of unemployment in this country." 
Ndabeni-Abrahams looks forward to working with Mr Sipho Nkosi, who has been appointed to head up a team in The Office of the President to cut red tape across government. This initiative goes hand in hand with steps Minister Ndabeni-Abrahams is working on to remove obstacles that prevent small businesses from growing and creating jobs.
Enquiries: McIntosh Polela
Ministry Spokesperson 
Mobile: 076 782 7911