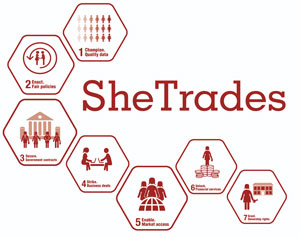 An opportunity for women entrepreneurs in South Africa. Through the SheTradesZA platform, selected women-owned businesses and corporations will benefit from a wide range of opportunities to expand their businesses and broadly advance women's economic empowerment.
What is the SheTradesZA Hub?
Together with the Republic of South Africa's Department for Small Business Development (DSBD) and the Small Enterprise Development Agency (SEDA), the ITC SheTrades has set up a Hub in South Africa, in order to help South African women entrepreneurs, increase their international competitiveness and connect to national, regional and global markets through the SheTradesZA Hub.
The primary objective of the Hub is to connect at least 50 000 women-owned businesses to markets by 2023.  This is part of South Africa's contribution to ITC's goal of connecting three million women-owned businesses to markets by 2021.
How can women-owned businesses benefit?
Connect to potential buyers, investors, suppliers and business support organizations;
Learn skills to boost business potential through our free e-learning courses, on-site workshops and webinars;
Receive support to attend national, regional and international trade fairs;
Get chances to participate in B2B meetings;
Access to investment opportunities;
Increased visibility and larger network in international markets
How can businesses benefit?
Connect with other women-owned businesses in South Africa and expand your pool of suppliers;
Identify unique and innovative businesses opportunities;
Learn, share and exchange with key businesses, governments and institutions;
Support the UN Sustainable Development Goals by empowering women;
Develop new partnerships and increase visibility in emerging markets.
How to be part of the SheTradesZA Hub?
Are you a New Member?
>> Register
Already a Member?
>> Login
---
SheTrades Brochure
Download the SheTrades brochure and client journey brochure on the links below: